I had some fun with my little sister today decorating pumpkins.
Glam Pumpkin
This pumpkin was fun and easy. These are stickers that have the stones already on them. It was so easy to just line them up and stick them on. I had to adjust them a few times to make sure it was just the way I wanted it, but it took less than 10 minutes.
Our second pumpkin was a different story. We got the idea from tumblr/pinterest. The original pin was deleted.


Here are the pictures of our masterpiece!
Colorful Crayon Pumpkin
We started by putting a bit of glue on the crayons and lining them up in the order we wanted. We placed it on a cardboard box to help with the mess and hit it with a hairdryer. It helped to have the diffuser on the the dryer so it wouldn't blow the crayons straight off of the pumpkin. We did have some blow off still anyways. We also found that we needed more crayons and kept adding more. If I were to do this again I would buy more crayons and have more of the same colors.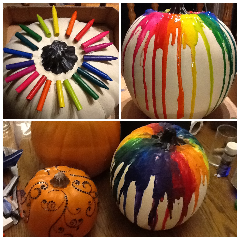 All in all I think it was a smashing success and yay these pumpkins can be used year after year. Love it!